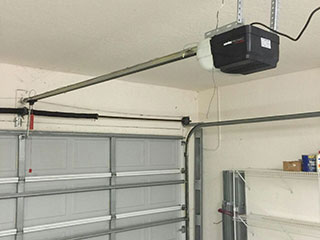 Open Sesame
Opening a garage door involves cooperation among several different mechanisms. A motor attaches to a trolley with a chain, belt, or screw. Alternatively, the motor might be inside of the trolley, or in the case of a jackshaft, the motor may be directly mounted on the torsion rods instead. In most cases, the trolley moves along a track and pulls or pushes the door along with it. Failure of any of these pieces can mean that your door refuses to properly open or close. Our technicians are trained to repair any type of garage door opener and leave our customers fully satisfied.
Let's Get Rolling
Daily use can wear out any part of your opener. Your motor may burn out, rendering your remote or wall switch useless and forcing you to lift and lower your door manually until it's repaired. Your trolley could be coming off the track, which can physically impede the door from moving. The chain, belt, or screw may be worn, broken, crooked, or in need of lubrication. If your door operates with a jackshaft, we'll check the torsion rods and tension cables as well. If your door is moving slowly, sticking, jerking, or making a lot of noise when it moves, we'll check to make sure that everything is aligned and rolling like it should be. Let our technicians inspect your broken door to find exactly where the problem is and get you back on schedule.
Get Help Fast
Don't let a broken opener inconvenience you for long. Let the professionals at Garage Door Repair Woodbury expertly assess and repair the issue. We have years of experience in all types of openers and their moving parts, and we offer same-day service and emergency calls to make sure that you're never stranded. Call today to set up your appointment.
In addition, count on us for:
Liftmaster Garage Door Maintenance
Remote Opener Clicker Replacement
Extension Spring Adjustment
Broken Garage Door Track Repair